GP con barrage 36 participantes, 6 sin falta, 5 sin ninguna penalidad en el desempate, montante 391.000$, diseño del estadounidense Anthony d´Ambriosio.
Nota de prensa
Jennifer Wood and Summer Grace for Jennifer Wood Media, Inc.
Wellington, FL – February 23, 2019 – Making their mark in the second five-star event of the circuit were Danielle Goldstein (ISR) and Lizziemary, who topped the $391,000 Palm Beach Equine Clinic Grand Prix CSI 5* on Saturday, February 23, at the 2019 Winter Equestrian Festival (WEF). It was the highlight event of the seventh week of WEF, which continues through March 31 with top hunter, jumper, and equitation competition at the Palm Beach International Equestrian Center.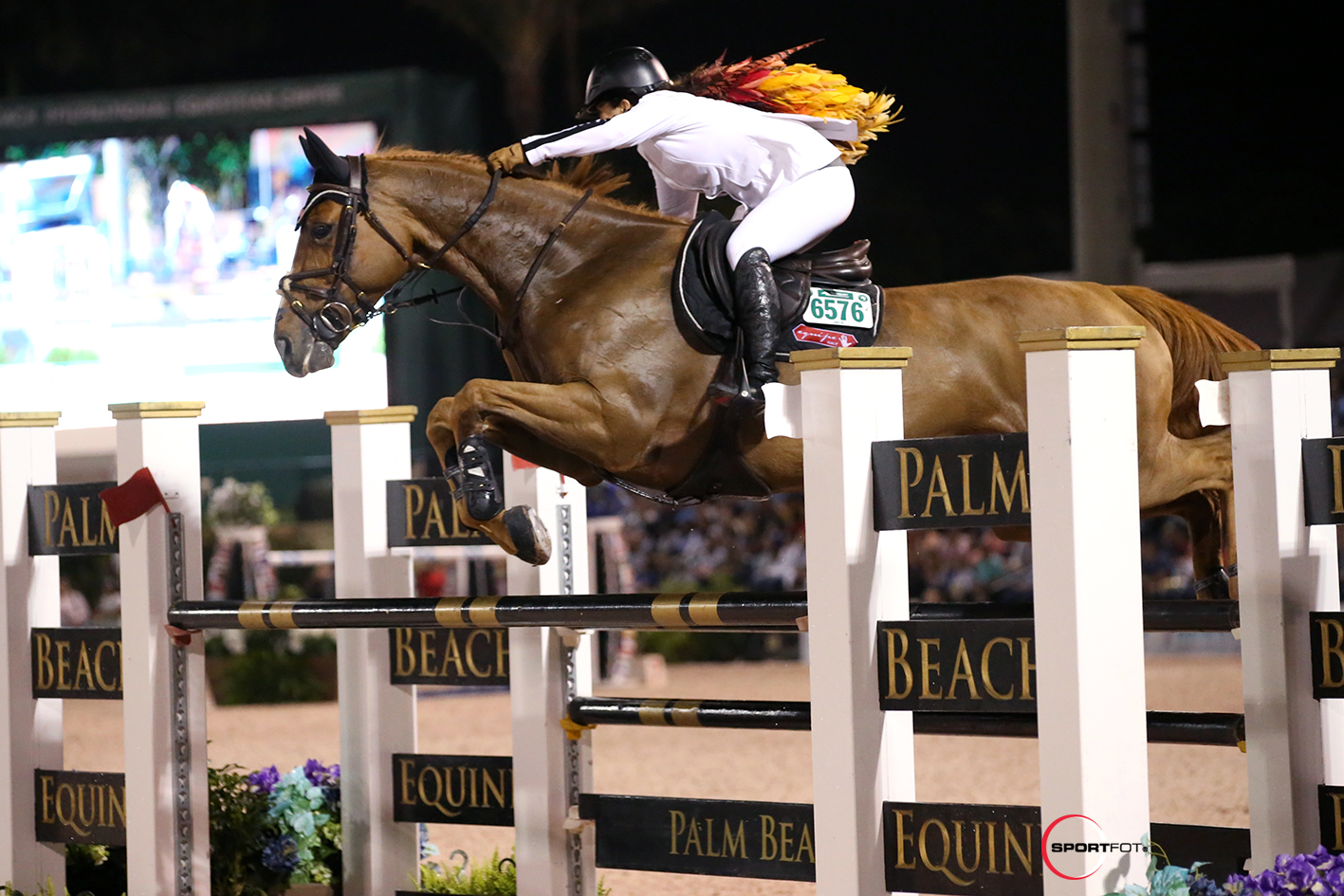 Danielle Goldstein and Lizziemary. Photo © Sportfot
Week 7 of WEF concludes on Sunday, February 24, with the $72,000 CaptiveOne Advisors 1.50m Classic and the $50,000 Dutta Corp./Guido Klatte Grand Prix CSI 2*.
There were 37 entries in the five-star grand prix, and six were clear and moved on to the jump-off over a course designed by Anthony D'Ambrosio (USA).
First into the ring were Nayel Nassar (EGY) and Evergate Stables LLC's Lucifer V. They laid down an efficient trip with no faults in 39.91 seconds, which would hold up for third place. Following them were Emil Hallundbaek (DEN) and his own Chalisco, who came home in 40.02 seconds for fourth place.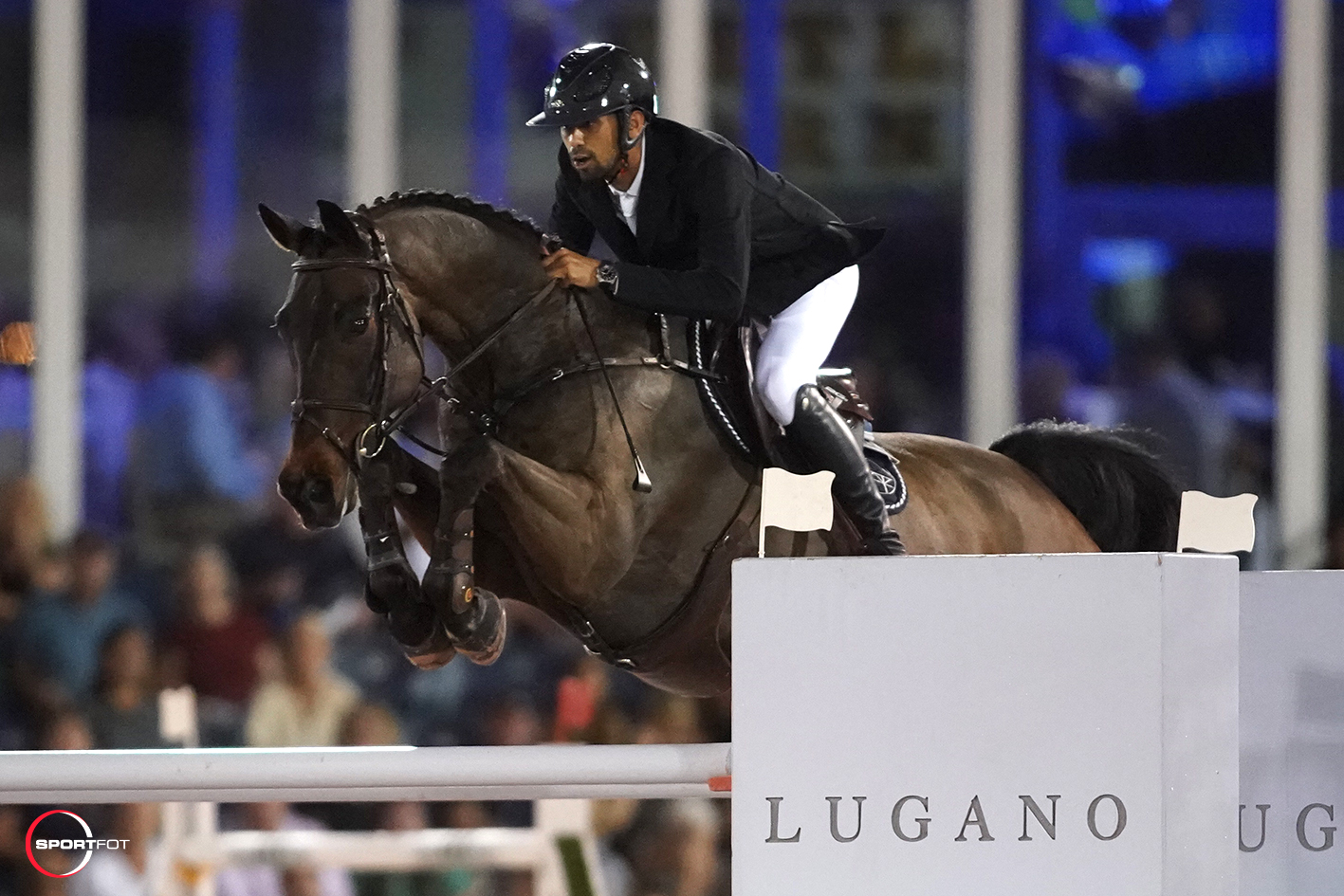 Nayel Nassar and Lucifer V. Photo © Sportfot
Of stepping into the ring first in the jump-off, Nassar said, "It's always a tough spot to go first in the jump-off. He is a fast horse, but I didn't think that inside turn was quite there for me tonight. He's a little funny with walls, and I don't know him quite well enough to do that yet, but he feels so good.
"We're starting to find some consistency," said Nassar of the 13-year-old Westphalian gelding by Lord Dezi x Grandeur he has ridden since May 2018. "He's really a great, great horse and a ton of fun to ride. He's a little quirky in his own ways, but he really tries hard for you and once you get him going to the first jump, he is game for anything. I'm really proud of how he's going right now, and hopefully I will bring him back out for the next five-star night."
Nassar hasn't competed in a "Saturday Night Lights" event at WEF in two years, so a return to the podium was encouraging for the 28-year-old rider. "It means a ton," he expressed. "It's my first grand prix under the lights in a long time in Wellington. This horse is a bit of a newer ride for me, so I'm just really excited that it's going so well at this level. I'm really looking forward to the rest of the season, and I'm just really pleased with how he jumped tonight."
Alex Granato (USA) and Page Tredennick's Carlchen W went in the jump-off next and brought the leading time down to 39.51 seconds, which would finish in second place. Mario Deslauriers (CAN) and Wishing Well Farm LLC's Bardolina 2 were clear in 40.75 seconds and they finished in fifth place.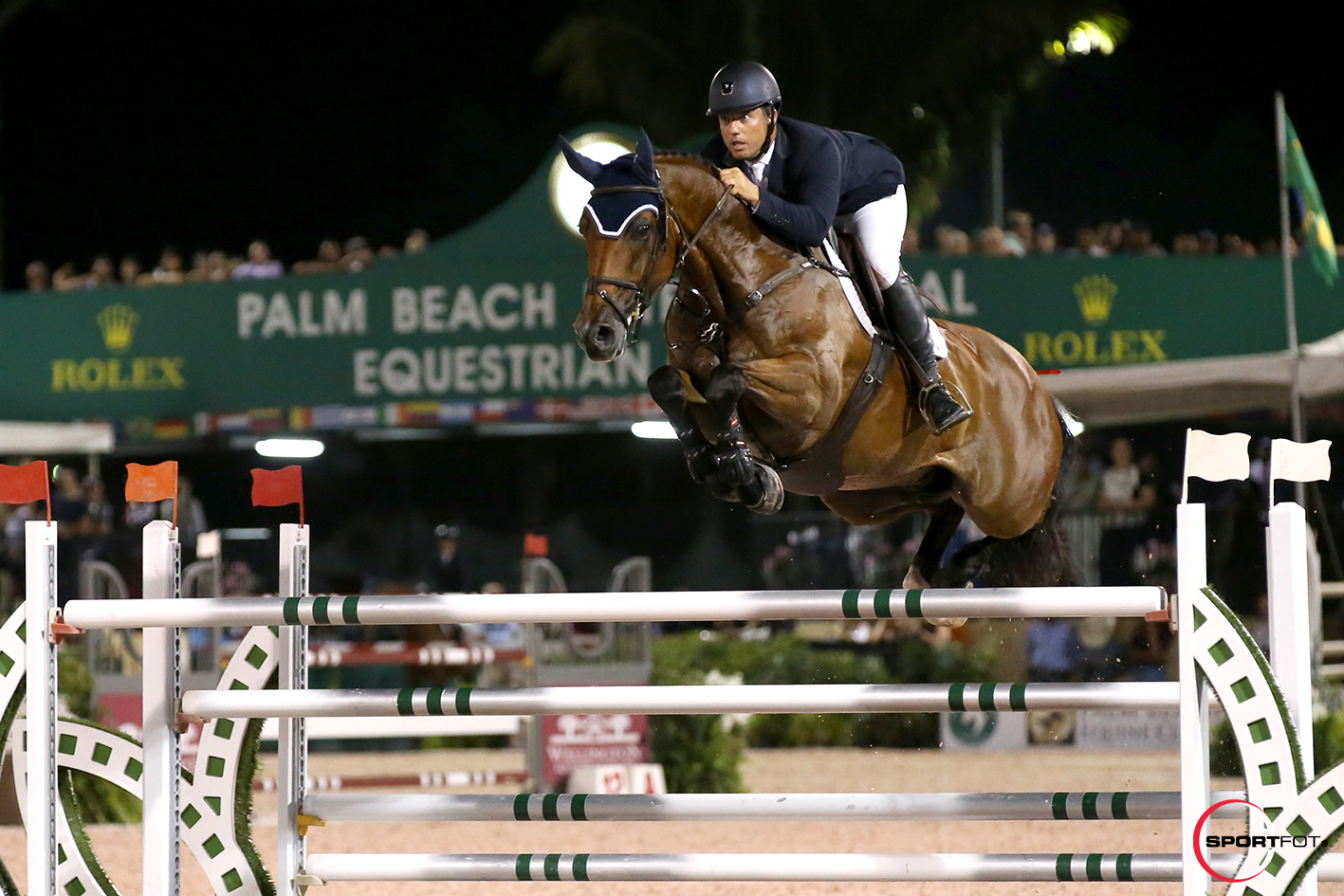 Alex Granato and Carlchen W. Photo © Sportfot
"Going around [from jumps one to two] I got a little hung-up," said Granato. "I got one or two extra strides to the wall than I wanted. That was the only place I wasn't thrilled with in the jump-off, but I thought he was really on the pace and did exactly what I wanted and stuck to the plan. I was happy with how it ended up. [Dani] was the clear winner with how she laid it on the table."
Granato and Carlchen W, an 11-year-old Mecklenberg gelding by Chacco-Blue x Continue, have had a streak of top finishes in the past year, including a win three weeks ago in a World Cup qualifier.
"In the last year and a half he's exceeded all of my expectations," said Granato of the horse he's ridden for six years. "He's come so far, and he's done a lot for and with me now. He's on form, and now he just keeps stepping up to the plate for me. I'm thrilled about it."
Goldstein and Lizziemary galloped into the arena, and with a daring inside turn from the first to the second "WEF wall" jump, they continued on a scorching pace to stop the timers in 37.76 seconds.
"Going into the jump-off, I knew I had Kent after me," Goldstein recalled. "I saw [Nayel and Alex] go. I had walked inside to the wall, and I knew it looked sort of dicey, but my horse is good about those sort of weird angles. She didn't quite see it today, and I got a little bit lucky I thought. I thought, "You gotta go out there. If you don't try to win, you never win, so you might as well try."
Last in was Kent Farrington (USA) on his and RCG Farm's Creedance. They were fast in 38.65 seconds, but a rail in the double combination left them in sixth place.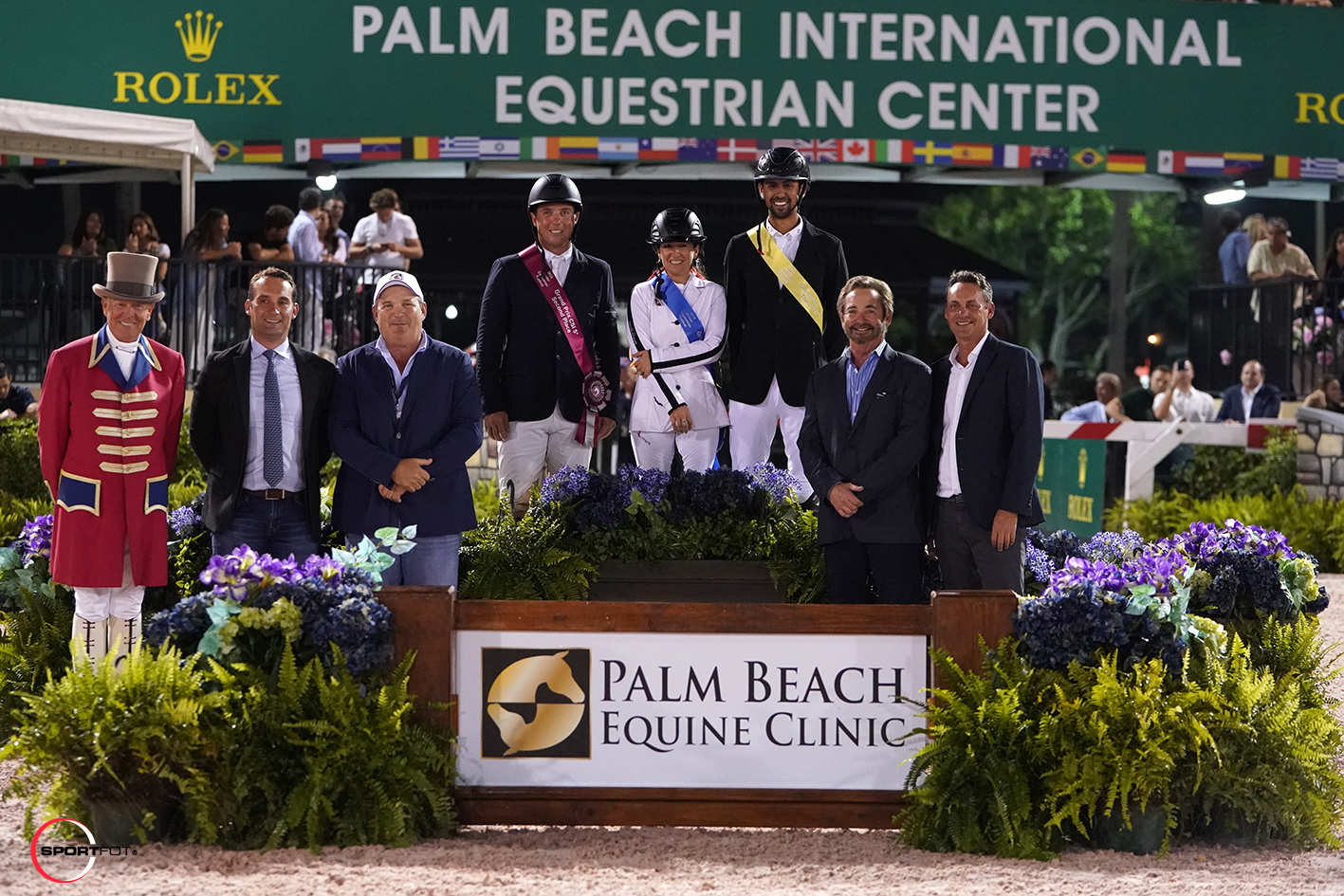 Alex Granato, Danielle Goldstein, and Nayel Nassar on the podium joined ringmaster Steve Rector along with Dr. Richard Wheeler, Dr. Robert Brusie, Dr. Scott Swerdlin, and Dr. Bryan Dubynsky of Palm Beach Equine Clinic. Photo © Sportfot.
Goldstein and Lizziemary won this same five-star grand prix during week 7 of last year's WEF, and it was a great return to the winner's circle for the pair that competed for Israel at the FEI World Equestrian Games™ Tryon 2018 last September.
"It's amazing to win two years in a row," she said. "It's a hard feat to win one year, let alone two years in a row, so I'm shocked and amazed and happy. I was really thrilled.
"It felt like a long time coming," Goldstein continued. "I jumped the last couple of big grand prix [classes] clear, and I would have one down in the jump-off, or I'd have one unlucky fault and it felt like I was at the edge and we were really close. This is not ideal weather; it's sticky and hot and she was breathing heavy, but she managed to pull it all together. Even in the warm-up, I thought she may be a tad empty, but she went in there and tried her heart out. It was really amazing."
Palm Beach Equine Clinic serves as the official veterinarians of the Winter Equestrian Festival, providing hospital and on-site services. "Palm Beach Equine Clinic has been offering services to the equestrians and horses of South Florida since 1981, so it's been here as Wellington has grown," said Dr. Richard Wheeler. "We have a vet here on the grounds any time there is a horse in the ring, so basically every day of the week, day and night. It's a big family, and we're all very, very proud to be a part of this event. It's great to see such a high level of sport and congratulations to these riders."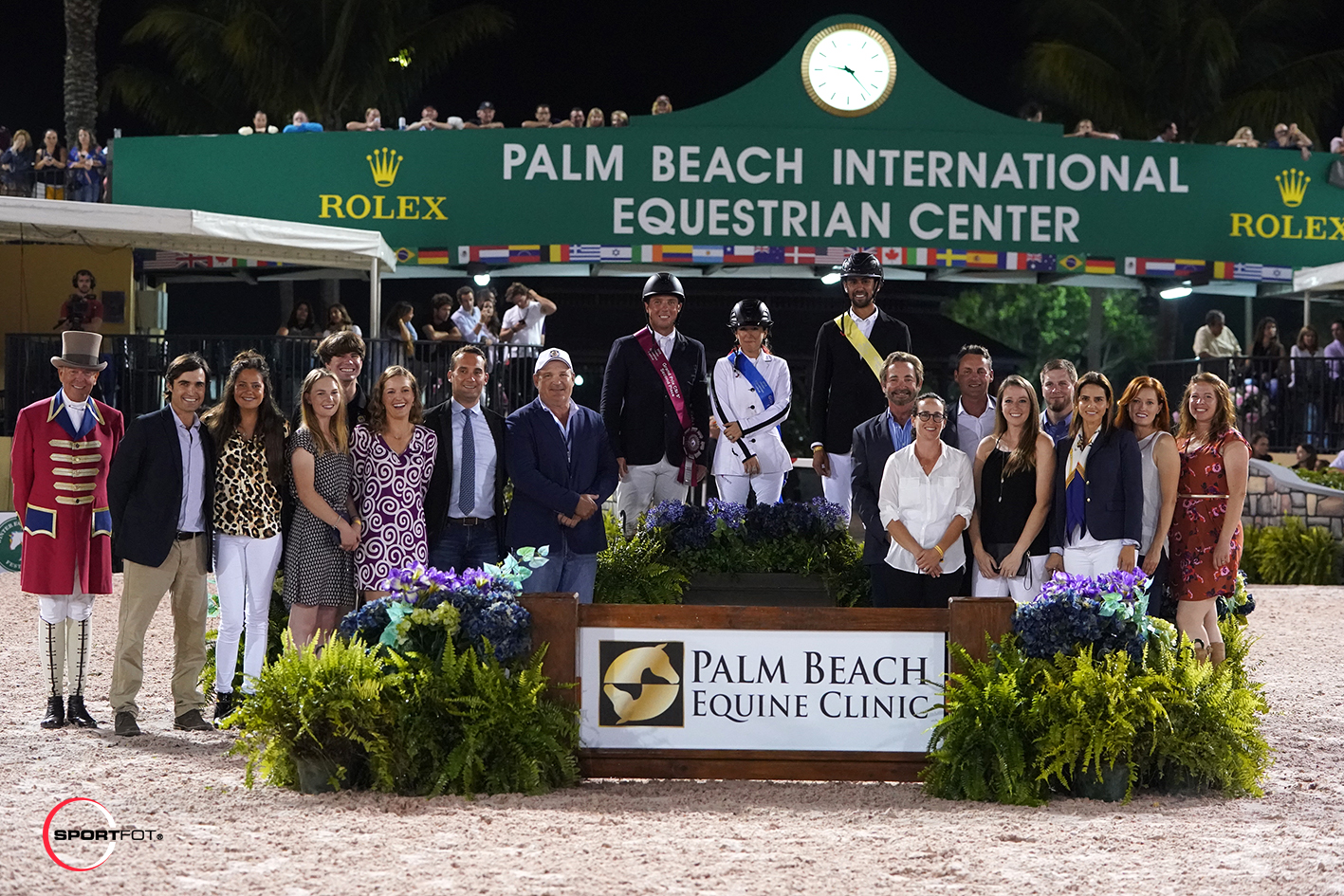 The top three riders with the veterinarians of Palm Beach Equine Clinic. Photo © Sportfot
The owner of the winning horse, Lizziemary, received a two-night stay at the Brazilian Court Hotel in Palm Beach and a bottle of Banfi Principessa Gavi courtesy of Banfi Vintners.
The Martha Jolicoeur Leading Lady Jumper Rider Award, given in memory of Dale Lawler, was presented to Jessica Springsteen (USA).
Final Results: $391,000 Palm Beach Equine Clinic Grand Prix CSI 5*
1 LIZZIEMARY: 2006 AES mare by Cabri d'Elle x Acord II
DANIELLE GOLDSTEIN (ISR), The Golden Group & Danielle Goldstein: 0/0/37.76
2 CARLCHEN W: 2008 Mecklenberg gelding by Chacco-Blue x Continue
ALEX GRANATO (USA), Page Tredennick: 0/0/39.51
3 LUCIFER V: 2006 Westphalian gelding by Lord Dezi x Grandeur
NAYEL NASSAR (EGY), Evergate Stables LLC: 0/0/39.91
4 CHALISCO: 2007 Oldenburg gelding by Chacco-Blue x Quidam de Revel
EMIL HALLUNDBAEK (DEN), Emil Hallundbaek: 0/0/40.02
5 BARDOLINA 2: 2009 Holsteiner mare by Clarimo x Landos
MARIO DESLAURIERS (CAN), Wishing Well Farm LLC: 0/0/40.756
6 CREEDANCE: 2007 Dutch Warmblood gelding by Lord Z x Notaris
KENT FARRINGTON (USA), RCG Farm & Kent Farrington: 0/4/39.652
7 CHAMEUR 137: 2008 Westphalian gelding by Cayetano L x Grossadmiral
GEORGINA BLOOMBERG (USA), Purple Road LLC: 1/84.03
8 RMF ZECILIE: 2007 Holsteiner mare by Acolord x Canturo
JESSICA SPRINGSTEEN (USA), Rushy Marsh Farm: 1/84.99
9 SARI: 2008 Selle Francais mare by Ninio de Rox x Timorrak des Isles
KAREN POLLE (JPN), Kinoshita Group: 1/85.20
10 BLUE MOVIE: 2006 Anglo European mare by Chacco Blue x Pilot
ROWAN WILLIS (AUS), Rowan Willis: 4/78.52
11 CLOONEY 51: 2006 Westphalian gelding by Cornet Obolensky x Ferragamo
MARTIN FUCHS (SUI), Luigi Baleri: 4/80.06
12 LADRIANO Z: 2008 Zangersheide gelding by Lawito x Baloubet du Rouet
DANIEL BLUMAN (ISR), Over the Top Stables LLC: 4/80.81
Jeff Gogul and Jackie MacDonald Take Home Victories in $10,000 USHJA National Hunter Derby
The 2019 Winter Equestrian Festival (WEF) hosted the $10,000 USHJA National Hunter Derby on Friday, February 22, during Week 7 of the season. Rings 11 and 12 at the Palm Beach International Equestrian Center were combined to allow course designer Robert McGregor room for a larger track with more options. The derby was split into two categories—professional and junior/amateur— that each offered $10,000 in prize money and saw over 30 horse-and-rider combinations contest each section.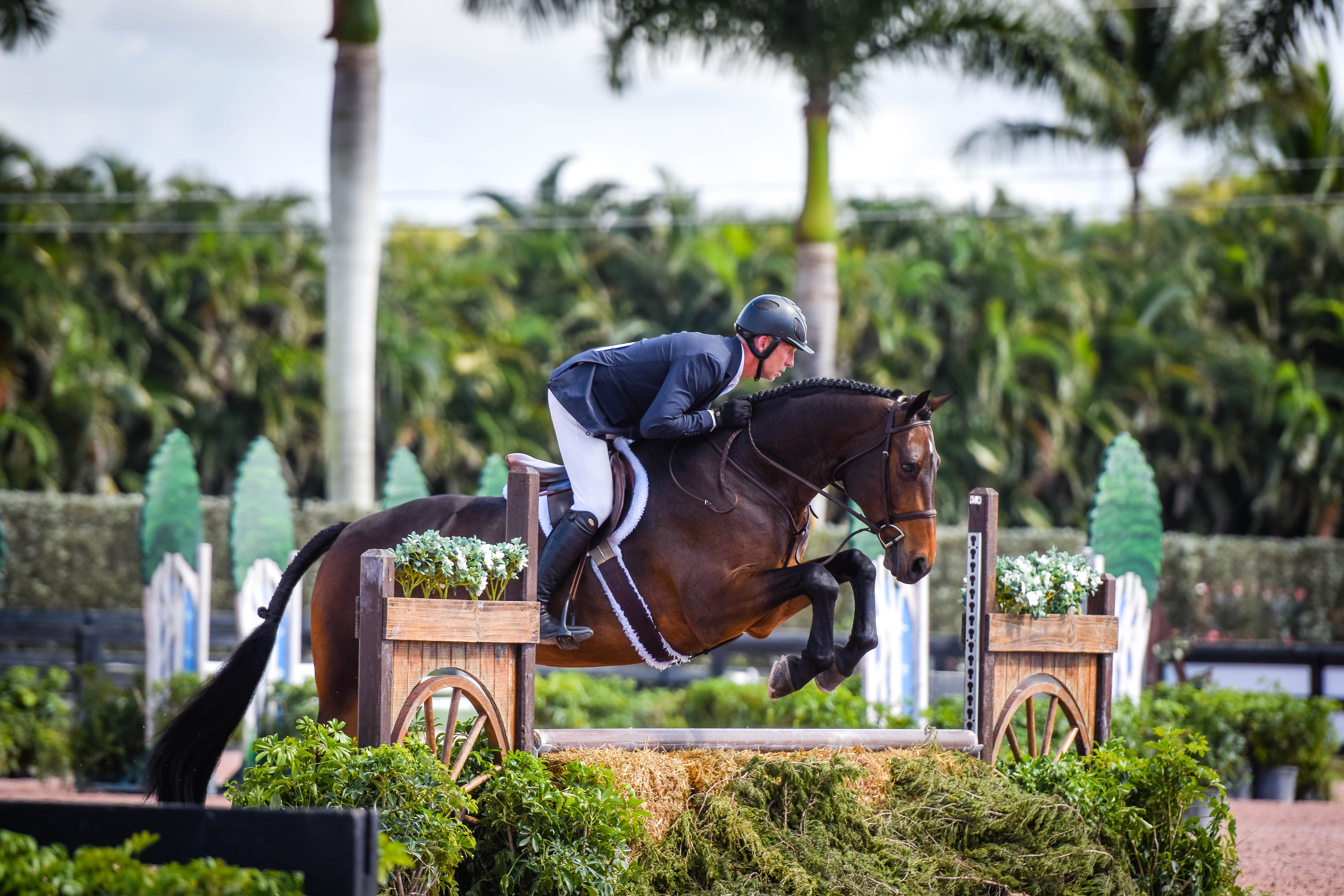 Jeff Gogul and Counselor. Photo © ESP/Liza Goodlett
Jeff Gogul secured the win in the professional section aboard Roaring Brook LLC's Counselor, while Jackie MacDonald bested the field in the junior/amateur section with Jennifer MacDonald's Chalk Hill.
Gogul dominated the professional division as he and the nine-year-old Holsteiner gelding earned scores of 92.00 and 91.00 points for a grand total of 183.00 points. His mount, Counselor, was only purchased in Europe at the end of the previous summer for amateur student Abby Wagner and had never previously competed in the hunters before making his trip to the U.S.
"He's a great guy because he's a real straight shooter and extremely brave," Gogul explained. "You can always count on him to jump the jumps in good style because you can gallop down the line and he will still produce a high, slow jump. He's very consistent in his jumping form."
Gogul said the experience of having the class up at what is commonly known as "Pony Island" brought a fresh feel to the competition and allowed for a better warm-up.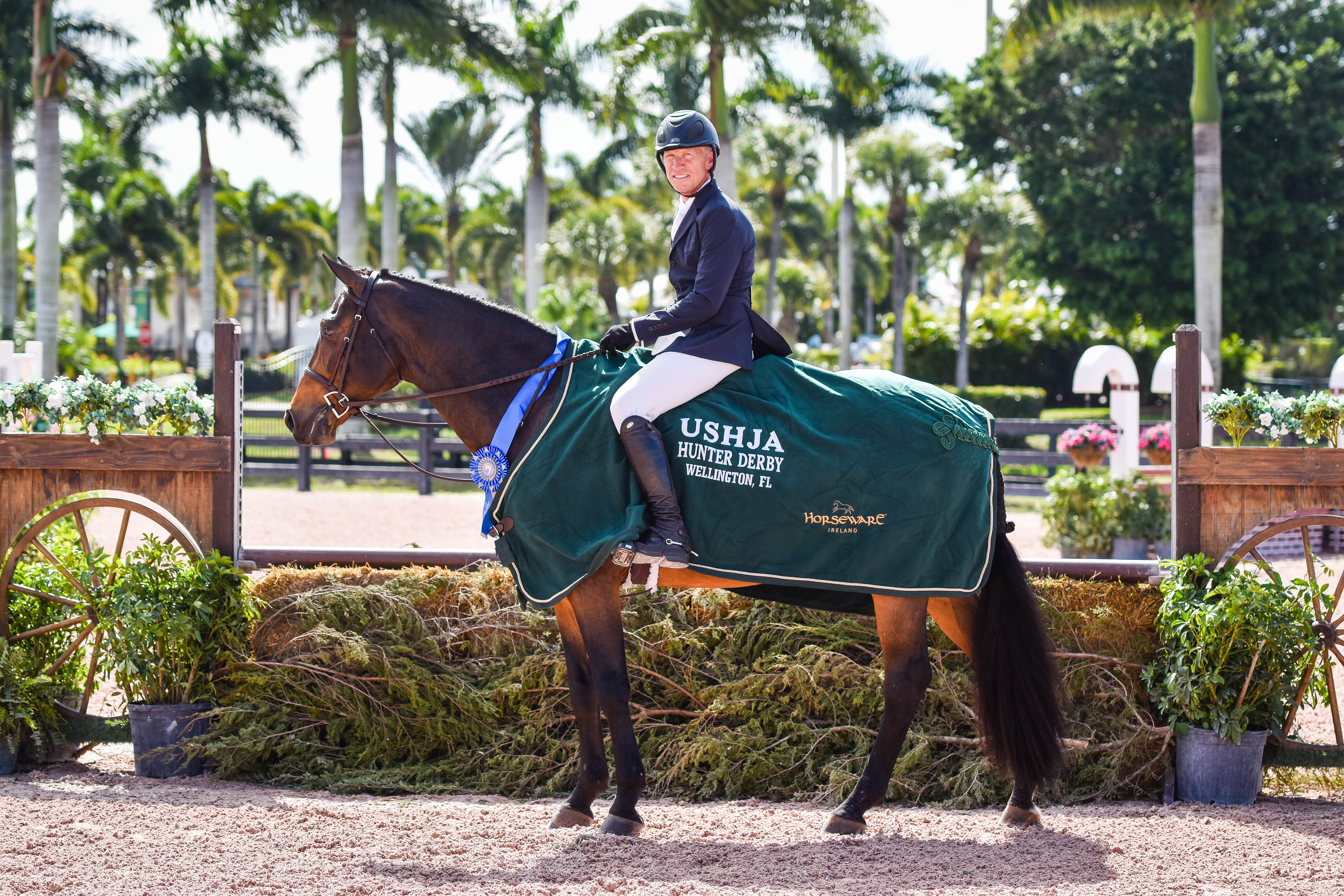 J
eff Gogul and Counselor in their winning presentation. Photo © ESP/Liza Goodlett.
"It was a really nice day because you had the huge warm-up area to prepare in and then a nice big ring to show in because they combined the rings," he commented. "The course was very inviting; I had to help him a bit more in the second round than the first because of the heat, but I think the course suited him well."
The reserve in the professional section went to Meredith Gallagher and Annette Friend's Rebel De Vizy with scores of 86.5 points and 93.00 points combining for a total of 179.5 points. Third place went to Havens Schatt with Julia McNerney's Caemlyn Z with a total of 174.00 points after accumulating 91.00 points and 83.00 points.
MacDonald's family has owned the 11-year-old Holsteiner gelding (Calato x Liberty I) for several years, but she only took over the ride from her sister earlier last year. The pair held a three-point lead in the junior/amateur section with combined scores of 87.00 points and 84.00 points to produce a total of 171.00 points.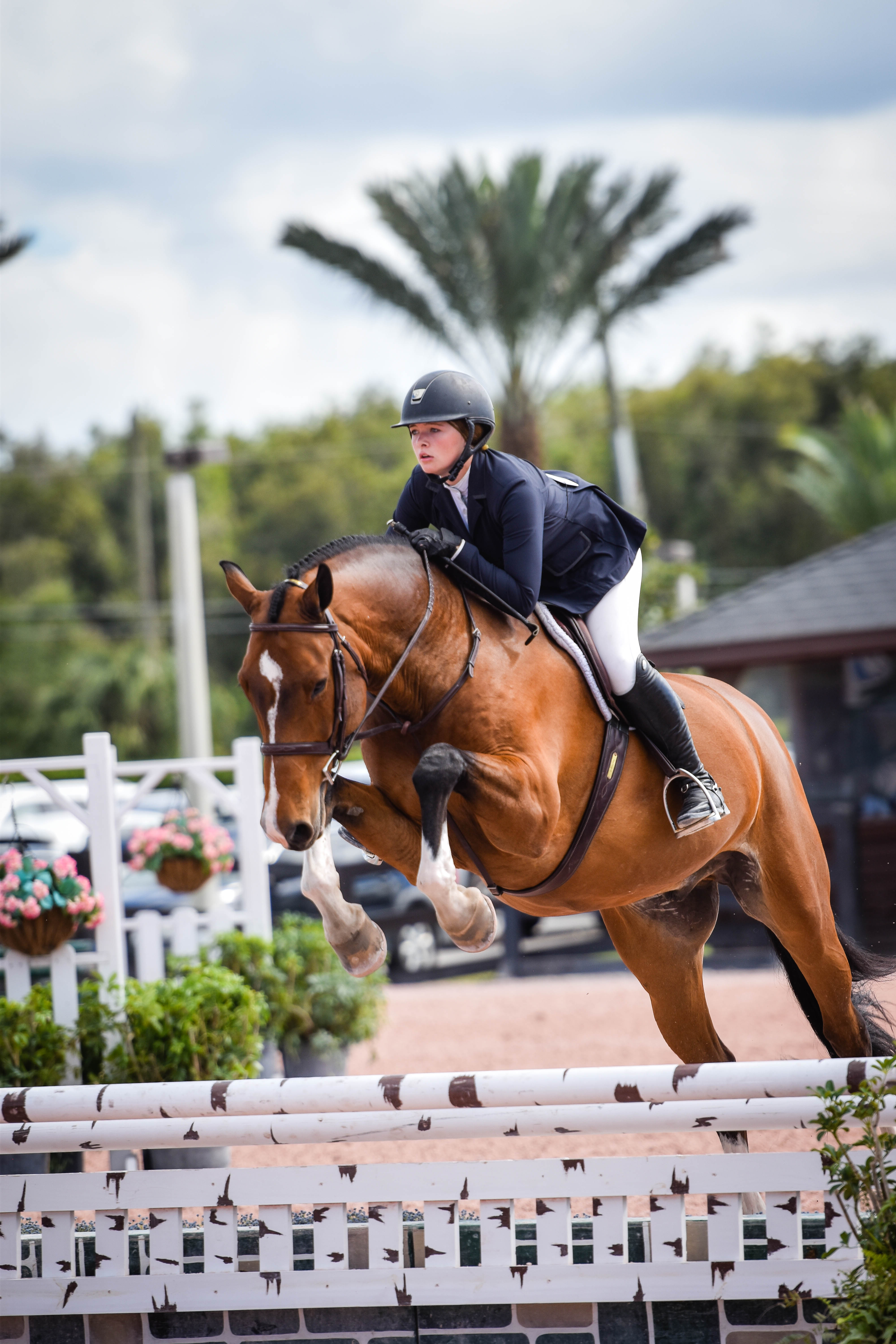 Jackie MacDonald and Chalk Hill. Photo © ESP/Liza Goodlett.
"He has a really great expression overall. He looks happy to be doing his job all of the time, and I just really love that about him," she said of her mount.
"I've mainly been focusing on getting him to come back to me more before the jump so he can produce a better form over the top," she continued. "I don't get to train much during the week because I am usually in Massachusetts and he is down here, but I was able to spend the entire week down here this past week. I think that really helped me to be able to establish what I wanted to fix."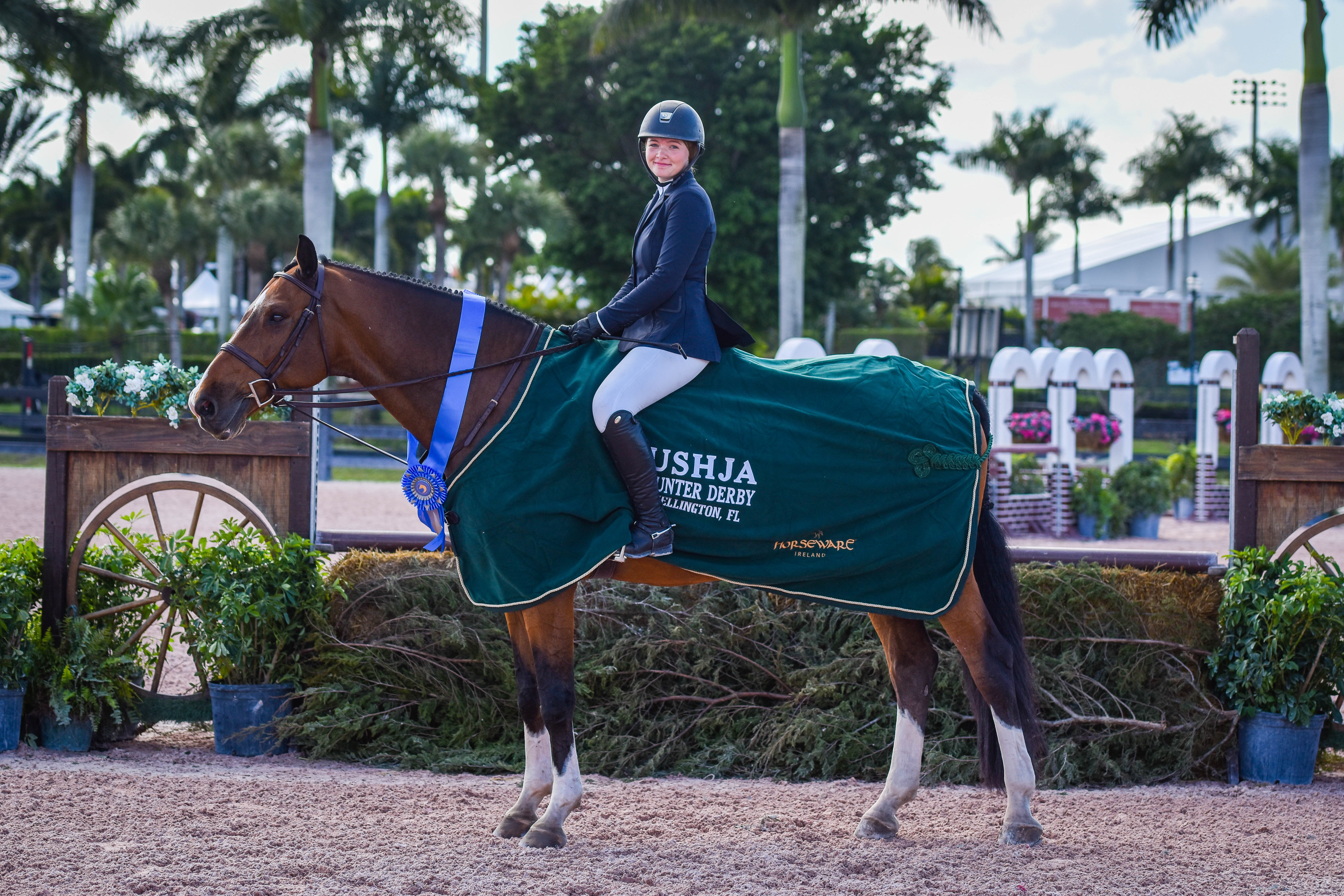 Jackie MacDonald and Chalk Hill in their winning presentation. Photo © ESP/Liza Goodlett.
The junior/amateur section second place was awarded to Kristen Simmons and her own Curb Appeal with scores of 90.00 points and 79.00 points totaling 169.00 points overall. Hannah Loeffelbein and Two Point Equestrian LLC's Trendsetter landed the third place with scores of 79.00 points and 88.00 points totaling 167.00.
Chloe Schmidt and Dramatic TF Win Ariat National Adult Medal
Fourteen adult equitation riders contested the course in the FarmVet Ring in hopes of returning to test for the Ariat National Adult Medal. With a first round score of 82 and a flawless test, Chloe Schmidt of Ridgefield, CT, captured the win aboard the seven-year-old Holsteiner mare (Cunningham x Luo-Luo), Dramatic TF.
Of the 14 original competitors, four were asked to return including Isabella Lombardo, Taylor Blackburn, Meghan Knapic, and Schmidt. Those that returned to test were asked to canter the first fence, counter-canter the second fence, canter fence seven, hand-gallop fence eight, and then exit the ring at a walk to demonstrate consistency and control of the horse.
Schmidt's sister Katherine has owned the mare since her two-year-old year and says the win is extra special for her. "Our parents bought her for us and we've had a bit of help, but we've really brought her up ourselves," Katherine said. "The fact that I can send my sister in there on her and they can win makes me really proud."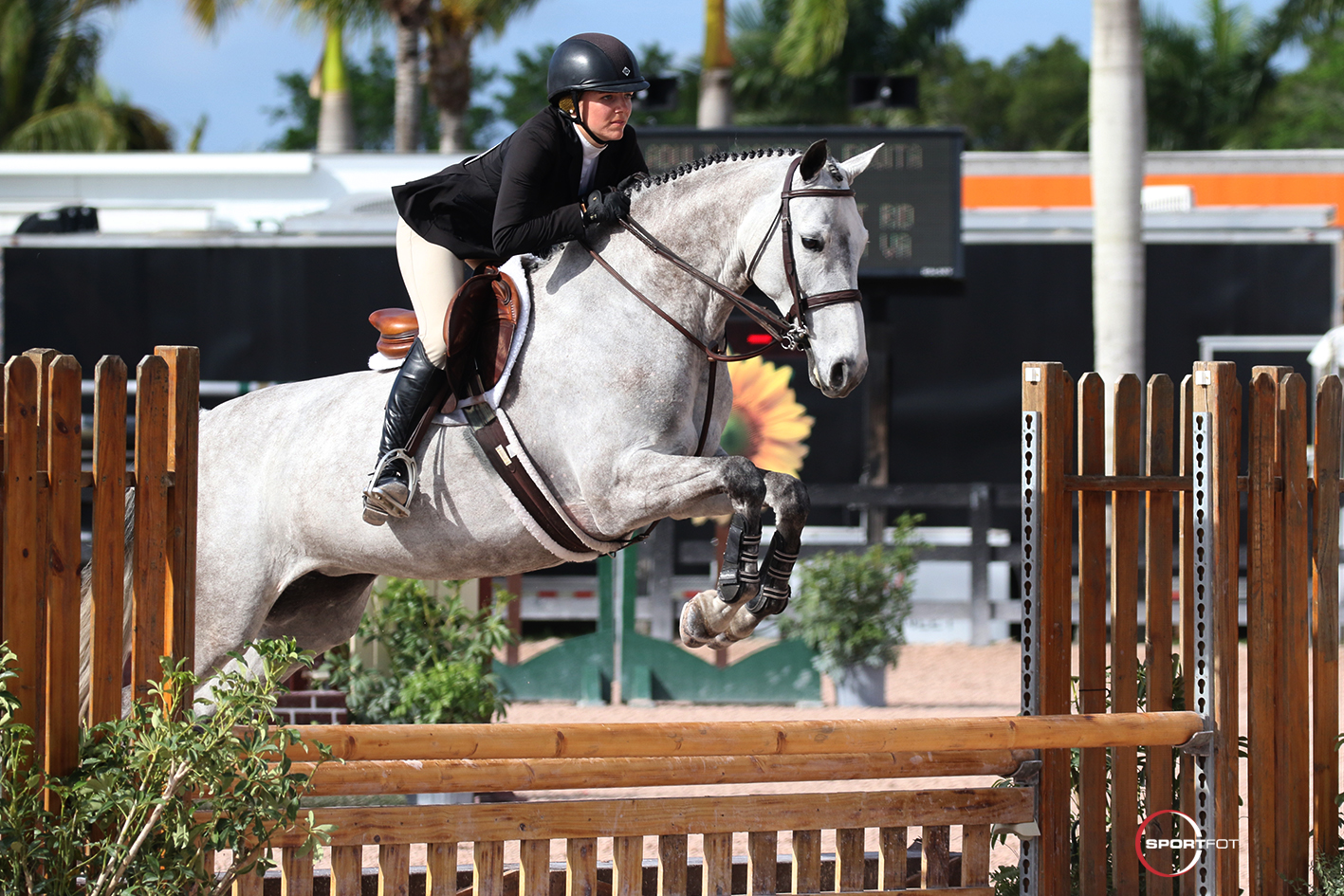 Chloe Schmidt and Dramatic TF. Photo © Sportfot
"My sister Katherine has really brought her up and started showing her several years ago," Chloe continued. "I just started showing her last year a little bit, but this is her first time ever coming to a show this big. She's never been to WEF before, and she only started showing in the equitation about two weeks ago when we first came here."
The sisters said they did not expect a win straight away with their mare but went in with a plan and trust in their young horse.
"It started to rain right before I went in, and she's never shown in the rain," explained Chloe. "I went in with the plan to just immediately go forward and develop a good canter and it all worked out. She's a fast learner and seems to be good at this."
Knapic and First Blue LLC's Casino landed the second place ribbon while Taylor Blackburn and Carriage Hill Farm's Victurus Te Salutat finished third. Isabella Lombardo rode Emily Sukert's Liv to round out the top four.
The final day of competition for Week 7 of the 2019 Winter Equestrian Festival will kick off Sunday, February 24.